Adam "AJ" Chandler III was a Port Charles High Scho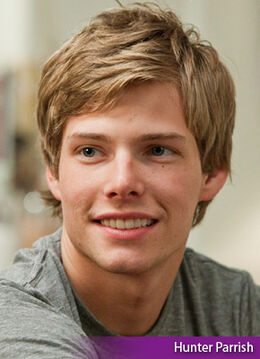 ol graduate before his death in season 4 by the ax maniac at Emma's cabin. AJ is shown to be cool, calm and collected but is ready to defend friends and family at all cost, especially Miranda Montgomery, best friend and later girlfriend. He always stood up for her and her younger sister Gabbi who he even had a brief fling with after Miranda rejected him the first time. The two were very close when they were kids and their friendship traveled through elementary and middle school to high school picking up a few friends along the way like Hope Thornhart and Grace Baker. AJ was accepted into Port Charles University with Miranda, Grace and Hope and planned on studying Criminal Justice with the dream of being a forensic scientist and possibly going into police work. AJ was closest to Miranda Montgomery and later fell in love with her and the two started dating. He was best friends with Hope Thornhart and Grace Baker and had a breif fling with Gabbi Montgomery. before his death, he got girlfriend Miranda Montgomery pregnant and she was unaware of that until after his death. she decided to keep the baby and named her Amanda Joy Chandler, AJ for short. AJ is the son of JR Chandler and Babe Carey and adoptive son of M
Information

Full Name

Adam Chandler III

Nicknames

AJ (everybody)

Gender

Male

Hair Color

Blonde

Eye Color

Brown

Relationships

Amanda Joy Chandler (daughter) JR Chandler (Father) Babe Carey (Mother) Marissa Tasker (adoptive mother) Adam Chandler (grandfather) Dixie Cooney (grandmother) Krystal Carey (grandmother) David Hayward (grandfather)

Relationships

Miranda Montgomery (ex-girlfriend) Gabbi Montgomery (Ex girlfriend)

First Apperance

1.01 Pilot

Last Apperance

4.

Reason

Killed by ax maniac
arissa Tasker. Grandson of Adam Chandler, David Hayward, Dixie Cooney and Krystal Carey, nephew of Skye Chandler, Hayley Vaughn, Miguel Reyes, Colby Chandler and Marissa Tasker. He is enemies with Spencer Cassadine and is portrayed by actor Hunter Parrish.
Character HistoryEditEdit
After Death
Gabbi Montgomery
Miranda Montgomery
Start Up
Breakup

Reason: AJ was killed by a ax maniac.