Christian Zacchara entered the series in season 1 as a freshman in the gifted program. Christian is a smart individual who loves science and math and wants to go into computer science as a major. Christian's father is in the mob and uses coffee importing as a cover, and as far as Christian is concerned, coffee importing is what he does, he doesn't think about the other stuff. Christian is shown to be a sweet guy and a gentleman because he was raised with two older sisters. Christian has been seen on the show since season 1 and has been recurring at a time. Christian is the son of Johnny Zacchara and Lulu Spencer, brother of Sydney Zacchara and Elena Zacchara, nephew of Brooke Spencer-Morgan, Lucky Spencer, and Nikolas Cassadine, cousin of Madi Morgan, Ali Morgan, Meghan Spencer, Fiona Spencer, Aiden Cassadine and Spencer Cassadine. He is close friends with Kenzie Ford and the boyfriend of Bree Brennan and the ex-boyfriend of Charlotte Martin. Christian is portrayed by Canadian actor Jamie Johnston.
Early Life
In The Series
Season 1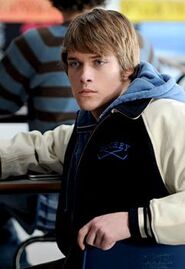 Christian Zacchara makes his first appearance in 1.01 Pilot by going into his school with older sisters Sydney and Elena. After he gets his schedule, the two walk off leaving Christian but he quickly meets up with cousin Ali who is in the gifted program and the two notice a younger girl who looks lost, they find out she is Kenzie Ford and in the gifted program and skipped two grades. the three compare their schedule and then go to their classes. when its time for the election, Christian is seen voting for Leah.
1.02 Beauty From Pain Christian's sister Sydney gets signed to a modeling agency.
1.03 On The Line, Christian notices sister Elena isn't eating as much as she used to and has been spending more time in the bathroom but doesn't think much of it.
1.04 Sorry I Can't Be Perfect Christian hangs out with Ali and Kenzie and is seen sitting with them at lunch and in between classes.
1.07 Courage, it is known to Christian, Sydney and their parents Elena is having Anorexic tendancies.
1.11 What Does It Take Christian is put into protection at a safe house along with Sydney, Elena, Madi, Ali, Trinity, Briana and Leah. Christian mostly works on his homework with Ali and is seen bored out of his mind.
1.12 Fire In My Eyes Christian and everyone are allowed to go home and his sister Sydney gets signed to a modeling agency in Europe but tells Christian not to tell Elena, she wants to be the one who tells her, so Christian stayes quiet.
1.13 You've Been On My Mind Christian hears his sisters arguing nonstop and gets worried Elena is going to start starving herself again since Sydney got a job in Paris
1.14 Falling Inside The Black Christian attends with winter formal with friends Kenzie and Ali and hangs out with Kenzie when Ali goes to dance with Liam.
1.17 Nothing Left To Lose Christian is in school with Kenzie when the gunshots go off. The two get separated in the madness and Elena finds him and tries to get him out of there but he keeps saying he has to find Kenzie but Elena gets him out of there not knowing that Kenzie hid in the bathroom.
Season 2
2.05 Disparity By Design Christian, along with everyone else returns to school.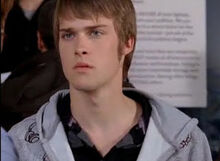 2.14 One Day Too Late Christian notices Elena is acting up again, but is oblivious to her starving herself.
2.16 Breaking Inside Christian is shocked when Elena passes out at school and is worried about her while his parents discuss putting Elena into treatment.
2.19 Recovery Begins Christian goes with his parents to drop Elena off at an inpatient hospital to help her with her eating disorder.
2.20 Day of Reckoning Christian is in the crowd at the party watching the paramedics take Tyler away.
Season 3
3.01 Last To Know Christian tries to help Elena adjust to life back home after being in treatment for five months.
3.03 You're Not Sorry Christian is seen at home studying for a test.
3.05 4 Words (To Choke Upon) Christian is seen at school.
3.13 Come One, Come All Christian is transferred into Charlotte Martin's English class. After working with her on an assignment, Christian realizes he likes her.
3.17 Spit You Out Christian pulls Elena off Lucia after they get in a fight.
3.18 World Around Me Christian is seen at school telling Elena she doesn't need a douche-bag like Cody.
Season 4
4.08 A Party Song (Walk of Shame) Christian meets up with Charlotte at Josslyn's party and the two talk for a little bit before she meets up with Trinity.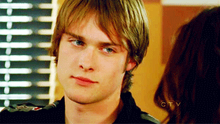 4.09 Misery Loves It's Company Christian is paired up with Charlotte again on a history assignment and the two work together again. When he gets home, he notices Elena is acting funny and worries she might be starving herself again. The next morning he wakes up and notices she is gone and so is a bunch of her stuff. He calls his parents at work and tells them that she is gone. He goes into his parents room and opens up the safe and realizes that her passport is also missing, making him think that she ran away to Paris.
4.12 My Obsession Christian is told Elena is in Paris. His parents leave and a few days later come back with both Sydney and Elena.
Season 5
5.02 Erase This Christian stops by the Ford house to see how Kenzie is doing with what happened to Hope.
5.03 Your Love Was A Lie Christian attends Hope's funeral and tries to be there for Kenzie who is avoiding everyone.
5.05 Not Enough Elena is released from treatment and Christian lets her know he is happy she is back and doing better.
5.08 All I Wanted Christian auditions for Beauty and the Beast and is happy to see Charlotte there. He gets the role of Chips.
5.11 I Don't Want To Fade Away Christian spends time with Charlotte. He says he is worried about how Kenzie is dealing with Hope being gone and that he feels their friendship is fractured. Charlotte tells him her worries about Trinity. The pair continue to talk and Charlotte kisses him before freaking out and running off.
5.12 The Day That Saved Us Christian tries to call Charlotte but she is avoiding his calls. He later sees Charlotte at Gabbi's party and talks to her. Charlotte confesses she is worried he will get hurt like Tyler did if she gets close to him. Christian assures her that will not happen and he would like to be in a relationship with her. Charlotte agrees.
5.13 Seventeen Ain't So Sweet Christian is kicked out so Elena, Sydney and Fiona can have a girls day.
5.18 Broken Mirrors Christian is seen in the production as Chips. He worries when the bullet nearly misses Kenzie but she assures him she is fine.
Season 6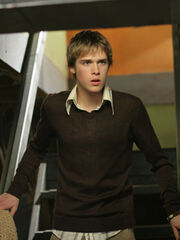 6.03 I Wanna Be Weightless Christian is at home when Brooke and Ali show up. He hears Brooke explain the situation. Christian asks Ali how she is doing when she gets set up in the guest room. Ali says the best she can in her situation and Christian asks if she wants to study to get her mind off of things.
6.08 All I Want Is The Good Life Christian spends more time with Charlotte and is happy with her. She later asks him to meet her parents and Christian is all for it. At school he later talks to Ali about it and she wishes him luck. He goes over to Charlotte's house that night and keeps the subject of his parents off the table not knowing how Jake and Amanda will react to Johnny Zacchara being his father. Christian leaves after dinner and returns home. Ali asks him how it went and he tells her it went well.
6.09 Cross The Line Christian is doing homework in the kitchen with Ali when Jason comes by looking for Madi. When he leaves he notices Ali roll her eyes.
6.11 Now or Never Christian is at home when Madi comes by asking if she can crash there since she can't stand being around Jason. He hears Johnny curse under his breath about the situation.
6.12 This Is My Last Goodbye Christian says goodbye when Ali, Brooke and Madi leave and lets Ali know if she needs anything, all she has to do is text him.
6.15 Careful What You Wish For Christian tries to get Charlotte to calm down when she is blaming Trinity for Trevor going AWOL.
6.16 Heart on the Floor Christian is seen at school studying with Ali.
Season 7
7.03 The Strength To Go On Christian witnesses Charlotte yell at Trinity Corinthos and later tells her she needs to relax after she kicks Trinity's things after Marina tripped her. Charlotte accuses Christian of taking her side. Christian tells her he is on no one's side.
7.05 Don't Let Me Down Christian meets Bree Brennan and remembers her vaguely from his freshman year and that she had some sort of mental break but he treats her normally. He can tell Bree is thankful for this. Charlotte later is furious that he has been talking to Bree in their English class and accuses him of not being there for her in her family's time of need.
7.07 Grim Goodbyes Christian attends Trevor's funeral and does his best to be there for Charlotte.
7.10 Just The Way I'm Not
Christian is assigned to be partners with Bree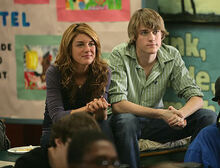 on their English project. The pair makes plans to work after school. Before Christian can leave Charlotte confronts her and is furious that he is spending time with her. Christian explains that she is just a friend and she needs a friend right now. That comment infuriates Charlotte who tells him that her brother was just killed, she is the one who needs someone, not some "psycho bitch." Christian tells her not to call Bree that, and Charlotte then breaks up with him. Christian still goes to meet Bree who knows something is wrong. Christian explains that Charlotte broke up with him. Bree worries she had something to do with it but Christian tells her that since she lost her brother, she hasn't been acting normal and it wasn't working out.
7.15 From Heads Unworthy Christian invites Bree over after school to continue to work on their project, Bree agrees and goes to his place. After they work for a while, they have dinner with his parents along with Sydney and Elena. Bree thanks them for the dinner and leaves. When she does, Johnny and Lulu sit him down and tell him that they are worried that Bree may not be a stable friend, especially because of her mental history. Christian tells his parents that as a future neuroscientist he understands what's going on in her head better than them. He explains the brain chemicals and meds she is on, which loses both Johnny and Lulu. He then tells them that he knows they are worried but he knows what he's doing and if she becomes unstable he will alert her mom to get her back on her meds or help.
7.16 Only God Can Judge Me Bree talks to Christian at school and asks him if everything is okay, referring to his parents. Christian assures her everything is fine. Bree than thanks him for treating her normally compared to everyone else. Christian assures her he is just doing what is right and she shouldn't thank him. He then asks her if she wants to see a movie later to celebrate their project being done. Bree agrees and the two have a good time. When Christian drops Bree off at her place, he kisses her goodbye.
7.18 The Good Left Undone Christian goes to his sisters' graduation ceremony.
Season 8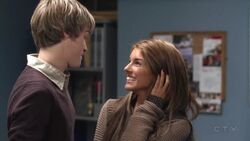 8.02 Audience of One
Christian asks Bree on a proper date. She tells him that she has DID. His response is that he knows. Bree then tells him the specifics of her disorder and the medications she is on. She feels he deserves to know what he is getting into. Christian explains that he plans on being a neuroscientist so he understands she isn't crazy, it is genetics mixed with how her brain is wired. Bree cries tears of joy at his explanation and explains that Christian is the first person who has understood and actually wants to know the real her.
8.13 Points Of Authority Christian and Bree spend the day together. When leaving Kelly's he goes to use the restroom and upon returning he sees Bree talking with Meghan and Bree is obviously a little shaken up. When he asks if everything is okay, Meghan tells him everything is great before saying goodbye. Christian then takes Bree home.
Season 9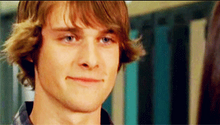 9.05 Prepare Your Weapon Christian goes back to school for his senior year and spends more time with Bree. Christian later notices Meghan taunting Bree for her mental history and Christian tells Meghan to back off. Bree thanks Christian and the two go about their day.
9.11 Things Will Never Be The Same Christian notices Kenzie being taunted by Meghan, calling her stupid for being held back her freshman year. Christian steps in and tells Meghan that Kenzie skipped two grades, so she is smarter than her and always will be. Meghan storms off and Kenzie thanks Christian who tells her it's what friends are for. He and Bree later sit with Kenzie at lunch and talk to her throughout the day.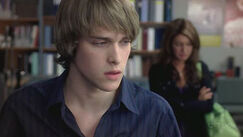 9.14 Keep The Change You Filthy Animal Kenzie continues to hang out with Christian and Bree. The three get coffee after school and Christian doesn't notice Bree isn't participating in the conversation. When Kenzie leaves to go home to study for the PSAT, Christian notices Bree is angry at him. The pair leaves Kelly's and Christian asks her what's wrong. Bree tells him everything is fine. Later that night, Christian texts Kenzie and asks if she wants to catch a movie when she isn't studying and Kenzie agrees. The next morning at school Bree confronts Christian about Kenzie accusing him of having feelings for her. Christian denies that and Bree tells him if he doesn't have feelings for Kenzie, then he shouldn't have a problem with not hanging out with her anymore. Christian tells Bree he isn't going to ditch a friend in need and then Bree makes him choose between the two, and Christian chooses Kenzie.
9.15 Ready To Fall Kenzie comes up to Christian at school and talks to him. Later that day when they hang out after class, Kenzie asks Christian where Bree is and Christian tells her they broke up and explains why when Kenzie asks. Kenzie tells him she doesn't want to bother him but Christian assures her that friends will always come first.
9.16 Found A Way Christian and Kenzie catch a movie over the weekend and grab dinner afterward. The two talk and it feels like nothing has changed over the years. Christian drops Kenzie off at her place and walks her to the door. Kenzie thinks him for the ride and study break. Before she goes inside, Christian kisses her.
Season 10
10.01 Burned At Both Ends Christian keeps trying to get Kenzie to talk to him but she ignores his calls and when he stops by her house, Starr tells him she is cramming for an exam.
10.04 View From Heaven Christian is able to confront Kenzie at school and asks her why she is avoiding him. Kenzie tells him she isn't sure how to respond the whole situation and is confused about what happened. Christian asks her to meet him after school at Kelly's so they can talk. Kenzie agrees and meets him there. The two sit down and Christian asks why she has been ignoring his calls and had Starr tell him she was cramming when she doesn't have a test, exam or quiz. Kenzie tells him she doesn't want to be a rebound or a girl to take someone's place so he isn't alone. Christian is confused and Kenzie points out that he just broke up with Bree, and he dated her about a month after breaking up with Charlotte Martin. He became friends with one of them and then broke up with the other. Christian thinks for a moment before telling her he understands what she is saying. He then tells her that they were best friends for a while Freshman year and were close. He cares about her and wants a relationship with her. Kenzie tells him she cares about him too but doesn't want him to befriend someone else and dump her when he realizes that they are better. Christian assures her that won't happen. Charlotte never got over Trevor's death and was mad at him for being there for a friend. Bree broke up with him because he refused to stop being her friend. He wans a relationship and cares about her. Kenzie agrees but tells him that he needs to be honest with her.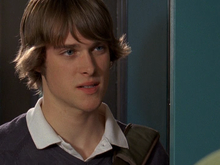 10.06 The Crow and the Butterfly Christian and Kenzie continue to hang out at school and after it but are obviously a couple. Somewhat angering Bree. Bree confronts Christian who tells her this isn't the time or place. He then meets her and tells her that he thinks he always had feelings for Kenzie. After the shooting, things were crazy and they were distanced. He apologizes to her about how things ended between them and wishes her the best.
10.11 Home Sweet Hole Christian talks to Kenzie at school about coming out to their parents as a couple. Kenzie is nervous about the idea because she hasn't dated before and doesn't know how her mom and dad will react to it, they were never fans of Cody's girlfriends, Elena or Amaya. Christian assures her everything will be fine. Their parents already know them, they will just be telling them they are in a relationship. That night Christian goes over to Kenzie's place for dinner and Kenzie tells Starr and James that they are dating. Both are shocked, thinking Kenzie was going to be spending her high school years studying but approve of him. The next day Kenzie goes over to Christian's place for dinner and he tells Johnny and Lulu the pair are now dating. Lulu is happy for them, explaining she never really liked Bree or Charlotte. Kenzie is a great girl and extremely intelligent.
10.12 Ignorance Is Your New Best Friend Christian gets his acceptance letter into Princeton. He is excited and wants to tell Kenzie, but when he thinks of her, he doesn't know what to do since she is still a grade behind him. He continues to study with her but keeps a little distance as he thinks about the situation. Kenzie can tell something is off and asks if he is okay, Christian tells her he is just tired because he couldn't sleep the night before.
10.17 Where The Lines Overlap Johnny and Lulu discuss Princeton with Christian and he tells him he has no idea on what to tell Kenzie. Johnny tells him he can't through away Princeton because of some girl, when Christian tells him that Kenzie isn't just "some girl" Lulu tells him that is not what he meant, they just don't want him giving up on his dream school and dream career because of a relationship. He has to think about that. Christian later gets a phone call from cousin Ali Morgan who tells him that Kenzie talked to her about him, saying she was worried that since he distanced himself, he found someone better. Christian thanks Ali for telling him and leaves to pick Kenzie up from dance class instead of Starr. When he arrives, he texts her saying he is outside to pick her up. Kenzie meets him at his car and when she gets in, Christian apologizes for being distant, but it isn't because he found someone better, he is just worried about college and anxious to find out which ones he got accepted into. Kenzie tells him it's okay, but in the future to tell her what is bothering him instead.
10.18 Keep You With Me After spending more time with Kenzie, Christian finally tells her he got into Princeton. Kenzie is happy for him, even when he explains he will be leaving mid summer and not late August/early September. Kenzie tells him she is happy he got into his dream school and they will figure something out.
Season 11
11.03 Long Live Us Christian arrives at his graduation ceremony and sees Bree also there. He makes conversation with her and asks what her plans are. Bree explains that her plans are to going to Llanview and attend college there. After hearing him talk about how the brain works and him understanding her, she thinks she may want to go into neuroscience or at least look at psychology. Christian tells her he is happy to hear that and hopes she finds joy in what she does After the ceremony Kenzie meets him backstage and talks to Christian and they invite Bree to grab dinner with them but Bree politely declines, saying she and her mom have plans. She then thanks the two for being nice, despite how petty she was. Christian tells her it's okay and she was right about his feelings for Kenzie. Bree tells them that hopefully they can put this behind them, and if they are ever in Llanview, give her a call.
11.06 Say Goodbye Christian meets up with Kenzie at Kelly's and grab some coffee before going to catch a movie. Afterward, they head to Port Charles Park and Kenzie talks to him about how she plans on applying to Princeton. Christian is surprised because she has stated previously her dream school was UC Berkeley. Kenzie tells him Berkeley is great but so is Princeton which is Ivy League. If she can get in, she should definitely take the opprotunity, especially since she is back on track after her grades being rocky after the shooting, not to mention, Princeton is also a lot closer to home than Berkeley. Christian tells her he would love if she came to Princeton, but doesn't want her to choose it specifically because of him. Kenzie tells him she will still apply to Berkeley along with a bunch of other schools, but if she gets in, she wants to go.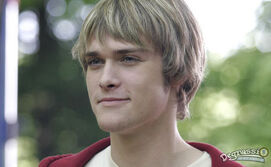 11.11 Lonely As You Christian and Kenzie spend one last day together before he leaves for Princeton. He plans on driving instead of flying so he has a way to get around town. During their last night together, Christian assures her that he loves her and can skype while he's gone and he will be home during winter and spring break. Kenzie tells him not to worry about her and to focus on studying, he got into Princeton, now he needs to prove he belongs there, which he does. The next day before Christian heads out Kenzie comes to his place to say goodbye one last time. The pair talk again, Christian telling her that if she needs anything, he is a phone call away. Kenzie tells him not to worry and she will see him soon. The pair kiss one last time before he gets in his car and starts the drive.
11.17 Everybody Breaks A Glass Christian skypes with Kenzie and the pair talk about how she is doing and preparing for senior year and how he is liking Princeton. The pair talk for about an hour before Starr knocks on Kenzie's door saying she needs to start going to bed early again. The pair say their goodbyes and promise to talk again soon.
Season 12
12.08 In Silent Seas We Drown Christian comes home for a long weekend. He and Kenzie spend a lot of time together. They catch a movie and go to dinner. While going for a walk, Kenzie casually brings up the story by saying Meghan apparently doesn't run the site. Christian tells her the story is garbage, the girls name is Lola and they are partners in their chemistry class and she became a friend. Kenzie tells him she trusts him, just weird that whoever runs the site has access to him Princeton. Christian tells her that is weird, but he has no idea who it is.
Season 13
13.05 For a Pessimist I'm Pretty Optimistic
13.07 You, The Room & The Devil On Your Shoulder
13.14 The Edge of Tonight
13.17 Lightning In a Bottle
Trivia
Wants to be a neuroscientist.
Quotes
(When asked on why he pretends all his father does is import coffee) "how would you feel if you hear about your dad doing all that stuff? killing people? shooting people? all that violence? killing people he doesn't even know. who would want to see their father that way? my dad has never told me anything about the organization, i have only gotten hints at it, he never stated he was in the mob, so as far as i'm concerned or as much as i have heard from my dad, he imports coffee with Michael Corinthos and Jason Morgan"
Relationships
Start Up:5.12 The Day That Saved Us
Break Up: 7.10 Just The Way I'm Not

Reason: Charlotte didn't like how he befriended Bree Brennan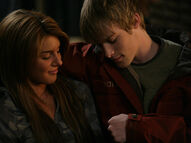 Start Up: 7.16 Only God Can Judge Me
Break Up: 9.14 Keep The Change You Filthy Animal

          Reason: Bree didn't like how Christian was spending time with Kenzie Ford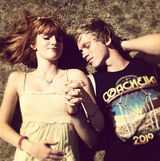 Kenzie Ford
Start Up: 10.04 View From Heaven