Evan Salinger is currently a graduate from Port Charles High School and the bass guitarist in The Pretty Reckless with Mason Lavery, Madi Morgan, Zack Giambetti, and Spike Lavery. Evan started out in season 2 when his family came to town after the shooting. Tyler auditioned for the band in season 2 as drummer but moved to bass guitar when bass guitarist Spencer Cassadine left after he graduated. Drummers were easier to find then bass guitarists. Even is seen to be a nice guy who is pretty ambitious and has the dream of being in a band for life and making money off that. When he was seven, Evan started taking drum lessons and by age nine guitar lessons and at age eleven he learned the bass guitar. Evan is the older brother of Tyler Salinger who was killed in the second season finale, he is the son of Nate and Danielle Salinger, nephew of Jack Manning and Starr Manning and cousin of Kenzie Ford, Cody Ford, Hope Thornhart, Savannah Wilde, Lucas Wilde and Bryan Manning. the grandson of Todd Manning and Tea Delgado.
Early Life
In The Series
Season 2
2.04 Cry For Help Evan makes his first appearance when he comes to town with parents and brother Tyler. He is introduced to cousins Kenzie and Cody.
2.05 Disparity By Design Evan wants to get in the swing of things at school and auditions as the new drummer for The Young and Reckless since Ian is no longer in the band and in prison. He gets the spot and gets to know band members Madi, Spencer and Spike.
2.17 Believe In Me The Young and Reckless perform new song Just Tonight at the talent show, but lose to Trinity and Max.
Season 3
3.03 You're Not Sorry Evan is sitting in the courtroom during Lucas's trial and is still furious over his brothers' murder.
3.06 The Sound of Madness Evan is happy with the verdict where Lucas is found guilty of murdering Tyler.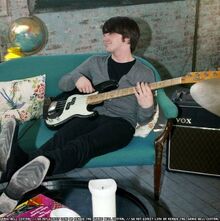 3.13 Come One, Come All The Young and Reckless hold auditions for a new drummer since Spencer graduated and Evan switches to bass. Mason Lavery auditions and gets the spot.
3.17 Spit You Out Evan shows up at the hospital with Mason after hearing what happened to Madi and Spike and are worried about the two.
3.18 World Around Me Evan and Mason are able to visit Spike who explains what happened.
3.19 In Fate's Hands Evan and Mason are visiting Spike again when they hear a commotion about Madi flat lining.
Season 4
4.01 Awake and Alive Evan is at the hospital with Mason trying to figure out what is going on with Madi. They are told that Madi is fine but can only be seen by immediate family.
4.03 The Approaching Curve Evan is told along with Mason that Madi is awake but still can only be seen by immediate family.
4.08 A Party Song (Walk Of Shame) Evan is seen at the party with Mason, Madi, and Ember
4.10 Hush Evan decides that he should get over what happened with Tyler and date. He has had a thing for Josslyn Jacks for a while and asks her out. He then takes her out to dinner and Josslyn is distant but tries to act interested.
4.13 Eyes On You Evan is at school with Josslyn in the hallway and talking when Ember randomly comes up and kisses him, causing Josslyn to both slap him and Ember. Evan is extremely confused and tries to convince Josslyn he has no idea why she would do that.
4.15 Don't Walk The Other Way Evan finds out that Josslyn was using him to attempt to make Noah jealous so he breaks up with her. He later goes to Kelly's to clear his head over what happened and runs into Rory Baker who there also alone.
Season 5
5.03 Your Love Was a Lie Evan attends Hope's funeral.
5.04 No More Sorrow Evan calls Rory and sees if she wants to go bowling. Rory agrees and the two go out and spend the day together. After bowling they go to Kelly's. Evan talks to Rory about cousin Hope dying and how weird it feels for him. He also talks about how since Spike and Madi broke up, the band appears to be on a hiatus.
5.05 Not Enough Evan is hanging out with Rory again at Kelly's
when new girl Courtney Hunter comes up and introduces herself saying judging by their age it looks like they will be in school together in the fall. Evan introduces him and Rory and Courtney sits with them and she and Evan start talking. Rory says she needs to get going soon and leaves. Evan and Courtney continue to get to know each other for another hour before leaving.
5.09 All I Need To Be Evan decides to audition for the musical for something to do over the summer since the band is on hiatus. He gets the role of Maurice, Belle's father. Evan also gets a text later that day from Madi saying she is back in the country.
5.10 Weight Of The World On My Shoulders Evan hangs out with Courtney during rehearsals when the pair aren't needed. The two grow closer and Evan asks Courtney on a date.
5.11 I Don't Want To Fade Away Evan and Courtney are seen in rehearsal.
5.12 The Day That Saved Us Courtney and Evan go to Gabbi's party. Evan is shocked by Madi's confession and looks around for either Spike or Mason but only sees Mason who is just as confused. Courtney asks what is going on and Evan tells her not to worry about it.
5.18 Broken Mirrors Evan appears in the musical.
Season 6
6.02 Chalk Outline Evan sees Rory with Ember at Kelly's and asks her if they can talk. Ember tells Rory she will see her later and Evan asks Rory why she is hanging out with Ember when she ditched her because she thought Mason liked her. Rory tells him not to worry about it, she has her friend back and is happy. Evan is confused and asks her is she is sure she wants to take the risk. Rory tells Evan to back off and that he ditched her when he got a girlfriend so he has no say in what she does. Rory then storms off leaving Evan confused as to what is going on with them.
6.12 This Is My Last Goodbye Evan tries talking to Rory again after school and asks her why she is being so distant. Rory tells him he is being distant because he is the one who started dating Courtney and then left to hang out with her all the time. Evan apologizes for spending more time with Courtney, but they are still friends and is confused on why Rory is still hanging out with Ember with how Ember treated her. This causes the pair to argue some more and Rory shuts him up by kissing him. When she pulls away Rory freaks out and takes off leaving Evan confused on what just happened. He later meets Courtney at the park and she asks what's wrong, visibly noticing Evan is confused. Evan tells her he is fine, just thinking about a homework assignment.
6.14 Got Me Going Crazy Evan meets up with Courtney at school and tells her they need to talk. He explains that he doesn't feel it's working out between them and wants to break up. Courtney asks if it has anything to do with Rory and Evan denies it not wanting to hurt Courtney. Courtney tells him she understands and tells him to go get his girl. Evan tries to talk to Rory at school but she avoids him. She also ignores his calls. He goes over to her place and throws rocks at her window causing Rory to come outside. She warns him that he mom is a bitch and he should be careful. Evan explains he has been trying to call her and Rory says she has been ignoring his calls on purpose. Evan shuts Rory up by kissing her and telling her he feels the same way and when Rory asks about Courtney Evan tells her he broke up with her.
6.16 Heart On The Floor Evan and Rory make their first debut at school as a couple. Rory introduces Evan to Ember as her boyfriend. The pair hang out with Ember, Mason, Spike and Madi.
Season 7
7.05 Don't Let Me Down Madi talks to Evan and the rest of the band about getting a rhythm guitarist so she can focus more on stage presence and add some more layers to their sound. Evan agrees and helps with the flyers. At their practice space he is annoyed that no one auditioning is good enough. He is happy when Zack Giambetti auditions with Metallica's "Master of Puppets" and agrees he is what they are looking for.
7.12 Thanks For The Memories After band rehearsal, Madi tells the guys about the shows she auditioned them for and explains the place and program. Two grand a show and free room and board. If they get the job they will handle the visas and everything. The guys are pretty excited about it and Evan later calls Rory and tells her about it.
7.18 The Good Left Undone Evan graduates high school with the rest of the senior class.
7.19 All I Want Is Everything Evan is seen at band rehearsal happy with how they are sounding with Zack in the band.
Season 8
8.05 Somewhere I Belong Evan and Rory show up at Spike's with his bags and bass, ready to help pack up the van and head out. He gives Madi his paperwork that includes his passport so he can get across the border and she puts it with the rest of the paper work in the glove box. Madi asks Rory if Ember is coming and Rory explains that her mom won't let her go. He is confused when Gabbi shows up to talk to Madi but continues to help get the stuff in the van ready to go and then talks to Rory about how Grace is doing. Rory explains she doesn't talk much and she is worried about her but just can't stay in the area while her mom is being the way she is. Madi returns and as they are about to leave, Ember shows up with her stuff saying that her mom changed her mind and the group depart.
8.06 How To Save A Life The band arrive in Whistler and get into their suite and decide who is sleeping where. Madi and Spike being the oldest will be taking the master suite while him, Rory, Ember and Mason will share the other bedroom and Zack will take the pull out couch. Madi and Spike leave to get a feel for the area. After ten minutes there is a knock on the door and Evan answers it only for a furious Madison to come in and yell at Ember. The two argue until Madi and Spike return. Madi is able to convince Madison to let Ember stay and even lies about the girls sharing one room and the guys in the other. Madison leaves and lets Ember stay.
8.07 Something New The group decide to get a feel for the city. Madi and Rory depart to go to the grocery store to get food while the rest head to a Starbucks where they meet the other band that is playing that summer. Yesterday's Tomorrow and members Sabrina Spreitler, Sam Jensen, JJ James and Randy Martinez.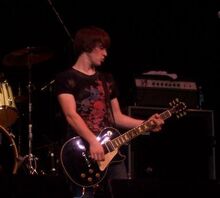 8.08 When Did Things Get So Crazy The band gets ready to play their first show and finish up their setlist, including Make Me Wanna Die, Miss Nothing, Since You're Gone, Zombie, Just Tonight and You. The first show goes great.
8.09 Falling Apart Rory voices her concern over the fact that Grace isn't answering her calls or text. Evan recommends she calls Savannah and see if maybe she lost her phone or something. After making a few calls, Rory tells Evan that Savannah and Grace broke up and she is now living with their grandfather. Rory again vents to Evan about her parents and Evan does his best to listen.
8.12 You and Me, Can't You See Evan is seen in the suite talking to Rory about catching a movie.
8.14 Because Of You Evan and Rory go out to breakfast in town and run into Sabrina and Randy. Sabrina shows interest in Evan and he doesn't do anything to discourage her, making Rory mad. When they get back to the suite they have a huge argument and Rory leaves with Ember following.
8.15 Call Me When You're Sober Evan talks to Mason about Rory being jealous and Mason tells him that she watched him date two girls, and one who didn't appreciate him. She is just likely insecure that after getting him, he will find someone better, somewhat like he did with Courtney. Evan goes out with Rory later in the day for a walk and Rory tells him that she is sorry for being jealous and tells him that she loves him.
8.16 That's What You Get The band is preparing to play their final show when Zack gets a phone call from his sister who needs him back at home. Zack departs and the band agrees Madi will take over his parts on rhythm guitar.
8.18 World Of Chances The band plays their final show and as they are packing up their gear, getting ready to depart the next day, they are approached by a man named Dom Moreno who works at Phantom Records in New York City. He tells them that while he was there on vacation, he was impressed with them and wants to get lunch tomorrow before they leave and talk a possible contract.
Season 9
9.01 Tragic Endings and Blissful Beginnings The next day, Madi, Spike, Mason and Evan sit down at a restaurant to talk with Dom Moreno. Dom talks about how he feels rock is a dying genre and he wants to bring it back. All everyone hears about is Miley Cyrus and Lil' Wayne. He wants rock back on the radio. Madi tells him what he is saying is too good to be true. Dom explains that the sound the Young and Reckless have has the possibility to play mainstream radio and hard rock stations. He wants to talk to them back in New York and possibly sign a recording contract with them. Spike speaks up about what his favorite thing about their act was, trying to see what he really thought. Dom explains that he liked the dark lyrics that are relatable to most of today's youth, Madi's stage presence while also playing the guitar and a tough frontwoman. Mason asks what his favorite song was and why, also seeing that this is too good to be true. Dom says he likes Zombie and Miss Nothing the best but feels Make Me Wanna Die could be a great hit single. Madi asks him if they can talk for a second. Dom agrees and gets up to give them space. Madi asks for their opinions. Spike tells her this guy seems legit and he googled him last night, he is who he says he is and Phantom Records is a good label, they should talk to him and go over a contract because this could be it. Both Mason and Evan agree. Dom comes back over and Madi informs him they have another member who had to leave for a family emergency but with him, they would like to meet with him in his New York office officially and discuss this further. Dom is happy to hear it and gives Madi his card with his secretary's number on it and tells her to call when the group gets back into the states.
9.02 I'm Going Mobile Evan hears from his parents that Rory's sister committed suicide. He tries calling her but her phone is still dead.
9.03 I've Become So Numb Evan still tries to get a hold of Rory but she isn't answering. He, Madi, Spike, Zack, and Mason go to NYC to meet Dom at Phantom Records. A lawyer Diane recommended comes with. Dom presents them with a contract and the lawyer reads it over and explains to the group what it is offering. The group agree that this is what they want and sign it and agree to meet Dom the next day to get a feel for what they are going to do. Madi and Spike then discuss moving New York City to record and agree they should. Zack explains he talked to his dad the night before and can attend school Monday and Friday to get assignments and be in NYC to record the other days. Mason agrees with Zack's idea since he is still in school also. Evan tells them that he will move later on, but Rory is going to be dealing with her sister's death for a while so he is gonna have Port Charles be his home base.
9.04 Goodbye I'm Sorry Evan attends Grace's funeral to support Rory. He does his best to stay calm and keep her calm while Chloe and Lainey are arguing.
9.06 Savior The band arrives at the studio for their first day of recording and decide on the tracklist for their album, Make Me Wanna Die, Since You're Gone, Miss Nothing, All I Wanted, Perfect, Zombie, You, Just Tonight and Light Me Up. Dom says he wants to record Make Me Wanna Die first so they can push that for a single and see the reception before they work on anything else. The band agrees and Mason starts recording the drum parts.
9.08 Make It Stop (Let This End) Evan goes with Ember and Rory to help set up the Rise Against Charity concert. He meets the guys but doesn't act like a huge fan, knowing that this day is for Grace. He stands side stage during the concert with Rory, Madi and Ember.
9.11 Things Will Never Be The Same the band is told that Make Me Wanna Die is mixed and ready to listen to. The group sit down and listen and are shocked when they hear it. There is a drum machine instead of Mason (very confusing since he was even in the studio tracking drums for it), Madi's voice is somewhat autotuned and there are electronic elements. When it ends, he gives them time to discuss the final product. They are all furious at what the just listened to and Madi tries to wrap her head around what happened. Spike is the first to speak saying he refuses to have his name connected to that. Mason, Evan and Zack agree. Madi is still speechless and has no idea what to think and says maybe they should talk to Dom again about this. Spike is furious Madi is even thinking about it and tells her that if this is what they've come to, he quits.
9.12 You're The Reason Evan overhears Madi talking to Dom and realizes that the band is no longer signed to the label because Madi quit also. He understands her reasoning. He calls Rory and tells her what is going on and stops by the Corinthos house on his way back into town to talk to her about what happened. Rory tells him to just take some time to think about what happened and his next steps.
9.17 Boulevard of Broken Dreams Evan gets a call from Madi to meet up with her and the rest of the guys. Evan shows up with the rest of the guys, Madi tells them that she knows they are extremely disappointed with everything that happened and she understands, but she just talked to tell them that Damon Richards of Lava is interested and wants to give them the resources to produce an album their way and record it with their vision and she want to discuss it and give it a chance. Mason, Evan and Zack are ecstatic and agree they need to try. Spike tells Madi he isn't interested. Madi is confused on what Spike is talking about. Evan, Mason and Zack give the three some space and leave the room. They see Spike storm out and look inside to see Madi crying.
Season 10
10.04 View From Heaven  Madi, Zack, Evan and Mason meet with Damon Richards of Lava Records with an attorney and explains the contract to the group. There may be a few creative differences with Damon approving of all songs to go on the record, but they mostly have control of the music they want to make. The band signs on and then discuss whether Zack should stay rhythm guitar or get a new rhythm guitarist and move Zack to lead. They also discuss the tracklist which will include Make Me Wanna Die, Just Tonight, Miss Nothing, Zombie, Light Me Up, All I Wanted and Since You're Gone but he wants a few more to be written for the album.
10.06 The Crow and the Butterfly The band decides that Zack will take over on lead and Madi will play when needed. The band arrive at the studio to get things started and Madi is shocked to see Andy Biersack of glam rock group Black Veil Brides there. Damon then explains that Andy will be helping out with the record which may include backing vocals or song writing. Mason is excited, especially since he is a fan of the Black Veil Brides and even met Ember at one of their concerts. Andy introduces himself to the band and lets them know he isn't there to take over, he has heard their demos and agrees that they have a lot of talent and wants to help them produce a great record.
10.07 Let Love Bleed Red Evan watches Madi records her vocals while Zack and Mason spend the day in class.
10.09 My Songs Know What You Did In The Dark Ali arrives at the studio in the afternoon. Madi is shocked to see her but Ali tells her that Spike told her she needed to give her this box of her old stuff to her and the envelope ASAP. She didn't know which envelope, so she brought the whole box. She then tells Madi she isn't a mail person and the next time they need to give each other something, use the mail like a normal person or deliver it herself. Madi is confused but takes the box and Ali leaves. She opens it up and finds the envelope Ali was referring to and opens it, causing her to curse. Zack, Evan and Mason ask what it is and Madi explains that Spike is claiming they are stealing intellectual property by recording some of the songs he co-wrote. Damon asks which ones and Madi tells him that he is claiming Make Me Wanna Die, Miss Nothing, Light Me Up and You. Damon also curses, angry at the situation and assigns Madi to work with Andy on writing an acoustic song ASAP.
10.13 Hard To Find Zack tells Evan he is having trouble learning the lead guitar part for Since You're Gone. Evan tries to teach him but Zack tells him he learned the play the guitar by ear and Evan learns he can't teach chords. When Madi arrives, they tell her the problem and she tells them to have Evan record but Evan tells her they have to play the song live. Madi leaves to show Damon the new song she wrote with Andy. Damon hates it and tasks Madi and Andy on going to Port Charles and try to get song rights from Spike. Evan then tells her to also swallow her pride and see if Spike can teach Zack the song.
10.19 Caught Like A Fly The band starts trying to come up with good ideas for album artwork. Mason then asks for what to do about the Ember situation. Evan tells him that the reason it works with Rory right now is because he is done with school. Ember seems like a great girl, but she is letting him go to follow his dream. Maybe a break is what they need.
Season 11
11.02 Light Me Up The band finish recording the album and are extremely excited, especially that it's actually them when they listen to it. They debate the first single and music video. It's between Zombie, Miss Nothing and Make Me Wanna Die. Andy says that their first single is what is going to be introducing them to the music world and will be the song that most people think of when they think of the band. The group decides on Make Me Wanna Die and discuss ideas for the music video.
11.03 Long Live Us Evan meets up with Rory after Trinity's graduation ceremony. Rory tells him that Ember has been on radio silence since she and Mason broke up. The pair stop by the North house and ask if Ember is around, but Madison tells them that Ember isn't home.
11.05 ...And Then She Bled Evan shows up with Mason and Zack and get prepared to film their first music video. Mason is excited and when Evan asks how he is doing since his break up with Ember, Mason tells him he is doing better. Andy also talks to them about how excited they are and thank him for helping with the record.
11.07 Bang The Doldrums The band goes to a meeting with Lava. Damon tells them that their single dropped last night and will play today on Sirius XM along with other rock stations, so far all the feedback they have gotten is great. They also have a release date for the album, two weeks from that day and they should all go celebrate and take advantage of the time they will be nobodies. Zack and the rest of the guys head back to Port Charles for some time with their families for a few days and Madi decides to stay in the city. 
11.08 Why Can't You Just Be Honest Rory texts Evan that Ember is spending senior year in Denmark. Evan calls and asks for clairity and Rory tells him that Ember is going into a program to spend her senior year in Copenhagen. Evan tells Rory she may just need to find herself, at this age not a lot of people know who they are and what they want, as much as Rory hates it, Ember needs to do this.
11.10 Stand Amid The Roar Make Me Wanna Die has broken the top ten on modern rock stations and the music video has almost 50,000 views. The band is ecstatic at how things are going and can't wait to tour in the fall with Black Veil Brides. Evan goes to the album release party with the rest of the guys and meets up with Rory who said her goodbyes to Ember. Rory asks how long Madi has been talking with Andy and Evan tells her not too long, but he and Mason think they will at hook up by the end of tour. Rory rolls her and has fun at the party. Rory notices Ciara is talking to Mason and Rory asks how he has been doing. Evan tells her better since it was a clean break and not a messy split. Rory comments that Ciara looks interested in him. Evan tells her she is fifteen and Rory points out the age difference is two years, the same as theirs. Before Evan can respond he sees Spike arrives and goes to thank him for showing up. Spike congratulates them on the album.
11.13 Let's Cheers To This Evan comes home for the summer and Rory spends a lot of time with him and feeling better about not imposing on the Corinthos'. She asks him to be her date to their vowel renewal and Evan accepts.
11.19 We'll Be A Dream Evan meets Rory at the venue for Michael and Chloe's vow renewal. The pair are seated close to the front when the ceremony is interrupted.
Season 12
12.01 The Last Great Love Story Evan is confused when the ceremony is interrupted and asks Rory if she knows what's going on and Rory tells him she has no idea. After Michael and Chloe sidebar, Chloe tells everyone the ceremony is canceled and they can leave. Chloe tells Rory it's best if she doesn't come home that night so Rory stays with Evan.
12.11 The Carpel Tunnel of Love The band starts rehearsing for tour and perfecting their set list. Zack and Madi discuss whether or not they should do a cover. Zack thinks it would be a good idea and recommends "Wonderwall." Mason jumps in and says that is the most stereotypical song to cover, every "bro with a guitar" plays it. He recommends Fiona Apple's "Criminal" or Audioslave's "Like a Stone" and if they do Oasis, have it be "Supersonic." Evan seconds "Supersonic" since it's a cover they have played multiple times in rehearsal and won't be hard to perform live, the others they don't know very well. Madi agrees with Evan and they add Oasis' "Supersonic" to their setlist.
12.14 Restless Heart Syndrome Evan is in Port Charles for the day while they take a break from rehearsal. Rory asks him how Mason is doing, especially with him and Ember being broken up. Evan tells her that he seems fine, he probably saw it coming. Rory asks if he has said anything about Ciara. Evan asks her if she is still hellbent on setting them up and Rory says that they would make a cute couple.
12.20 Politics of Love Evan meets up with the rest of the band at the venue and prepare for the tour and their first show. They Finalize their set list and do their soundcheck. Rory shows up with Kenzie before he goes onstage and she wishes him luck.
Season 13
13.03 I Am the Fire
13.08 In a Place of Solace
13.13 Stained Glass Eyes and Colorful Tears
13.16 Stop Looking Start Seeing
13.17 Lightning In A Bottle
13.18 Tangled In The Great Escape
Trivia
Quotes
Relationships
Start Up: 4.13 Eyes On You
Break Up: 4.15 Don't Walk The Other Way

Reason: Josslyn was using him to get Noah jealous
Start Up: 5.10 The Weight Of The World On My Shoulders
Break Up: 6.14 Got Me Going Crazy

Reason: he liked Rory more
Start Up: 6.14 Got Me Going Crazy
Break Up: 13.17 Lightning In a Bottle

Evan wanted to take a break while on tour