Lucas Wilde entered the series in season 2 with his twin sister Savannah. Lucas was a sophomore who wasn't the nicest guy. Lucas was shown to be possessive and have some anger problems and obsessive. Lucas grew up in a single-mother household with his sister. upon coming to Port Charles, Lucas met his real father and spent time with him. Lucas started an obsession with freshman Charlotte Martin not too long after arrival in town but was upset when she was in a relationship with another freshman Tyler Salinger who is also his cousin. Lucas fights to get Tyler out of the picture but is unable so in the second season finale, he stabs Tyler to death and is sentenced to prison in season three. Lucas is the son of Langston Wilde and Robert Ford, nephew of James Ford and Nate Salinger and cousin of Tyler Salinger, Evan Salinger, Kenzie Ford and Cody Ford.
Early Life
In The Series
Season 2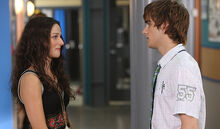 2.07 Just Tonight Lucas makes his first appearance with Sister Savannah to meet father Robert Ford.
2.08 Somewhere I Belong Lucas and Savannah spend bonding time with their father.
2.13 Until Your Mine Lucas starts having a thing for Charlotte Martin but she is dating his cousin Tyler. Savannah tries to get Lucas to leave her alone, but Lucas later locks Tyler in a closet during lunch and tries to talk to Charlotte but she is too worried over the fact that Tyler is gone.
2.20 Day of Reckoning Angry that he can't have Charlotte, at the end of the year party, Lucas follows him when he goes out to get some fresh air and stabs him in the back, puncturing his aorta and killing him.
Season 3
3.01 Last To Know Lucas is visited by his father Ford while he is in jail. Lucas still refuses to talk.
3.03 You're Not Sorry Lucas' trial begins and he pleads not guilty.
3.04 All That Things I Hate (Revolve Around You) Lucas is seen smiling when Trinity's testimony is turned around on her.
3.05 4 Words (To Choke Upon) Lucas is seen again in the courtroom as Max testifies.
3.06 The Sound of Madness Lucas is found guilty of murder and sentenced to 25 years in Pentonville. He says his goodbye to his mother and sister Savannah.
Trivia
Lucas is the first character to commit murder
Lucas is the second character to go to prison
Quotes