Noah Drake is a Freshman at Port Charles University and a graduate of Port Charles High School. He is currently undecided on his major and wants to explore his options. Noah is a tough headstrong guy who is a recovering heroin addict. After the school shooting and almost losing his sister he didn't know how to cope so he turned to drugs. It lost him his then-girlfriend Josslyn Jacks but gained his former-girlfriend, now wife, Briana Corinthos. Noah is known to be a "hottie" around school with some girls crushing on him, but he always stayed faithful to his girlfriend. Noah used to play basketball in high school but got suspended for his drug use and decided to focus on getting clean before returning to the game and he never did return. Noah is notably known for his relationship with Briana, who is the daughter of notable super couple "Chlichael" (Michael Corinthos and Chloe Mathers). Noah is the son of Patrick Drake and Robin Scorpio and named after his grandfather Noah Drake Sr, Robert Scorpio and Anna Devane, Brother of Emma Drake, Anna Drake and Drake Niles, Nephew of Maxie Jones, cousin of Courtney Hunter and Josh Hunter, son-in-law of Michael anc Chloe Corinthos, brother-in-law of Trinity Corinthos and the late Leah Corinthos. Noah Drake is portrayed by actor Casey Diedreck.
Early Life
Robin shares with her mother, Anna Devane, that she and Patrick are expecting their second child. Anna was the first person they told because they wanted to be absolutely sure before sharing their news. Anna is thrilled for her daughter and their entire family. Robin encourages Anna to fight her illness, so that she can be there for her new grandchild, Baby Drake. Anna excitedly asks Robin if she knows the sex of the baby and suggests the name, Robert, as a first or middle name if the baby is a boy.
While pregnant, Robin is kidnapped and held hostage by a crazed Olivia Jerome and then was forced at gunpoint to stand on a pressure plate (land mine) in an elevator but Jason offered to take a reluctant Robin's place and then insisted after finding out that she was pregnant and he did end up taking her place.
A pregnant Robin and big sister, Emma arrive in Port Charles for The Nurses' Ball. Robin didn't attend the ball because her family lovingly convinced her to stay home and rest but she did make a speech via video.
In The Series
Season 1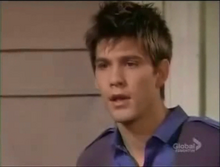 Noah makes his first appearance in 1.01 Pilot as he meets up with girlfriend Josslyn. He is later seen in class with fellow sophomores Briana Corinthos, The Zacchara Twins, Drake Niles, Cody Ford, Fiona Spencer, Liam McBain, Madi Morgan and Spike Lavery.
1.06 The Party Scene, Noah is at the party when Josslyn shows up and the two disapear off together leaving Briana alone.
1.08 Someone Who Cares, its time for boys basketball tryout and Noah plays select basketball and when he tries out for the team for Varsity, he learns that senior Cameron Webber is trying out for his position and since he is a senior and if he is good enough, he will be the Varsity Point guard and Noah might be put down to JV. During the tryouts, Cameron tries to outdue Noah and Noah has to fight back for the position that Cameron doesn't even play. After battling out, Noah gets the spot of Point Guard on Varsity.
1.09 Get Out Alive, Noah learns that Josslyn is in the hospital and rushes there to see if she is ok.
1.10 Make It Right, while Josslyn is recovering in the hospital, Noah goes to visit her.
1.14 Falling Inside The Black, Noah attends the dance with Josslyn.
1.17 Nothing Left To Lose, Noah is walking into school with Max when Jenny runs out and stops them saying someone is inside shooting, the two then run in to get Hope and Josslyn out, after running inside, Noah sees Josslyn running down the stairs and quickly grabs her and gets out. Later, Noah is seen wondering if Emma is ok and hugging younger sister Anna after she gets out.
Season 2
2.05 Disparity By Design Noah returns to school but is seen purchasing a bag of white powder from a scruffy looking senior. Later that day Josslyn looks through his bag to find a pen and finds it. When they go to Kelly's after school, she confronts Noah about it and he denies everything which leads to a huge argument and Josslyn breaking up with him. Briana sees the breakup and asks what happened and Noah doesn't want to talk about it and leaves also.
2.06 Second Chance Briana confronts Noah at school and he denies everything again, after Briana refuses to leave him alone, Noah finally confesses that he started doing heroin as a way to cope with the shooting. His own half brother wanted to kill him and his siblings and successfully killed his sisters best friend and injured so many people. Briana tells him what he's doing isn't a healthy way to cope and he needs help. Noah is shocked she isn't berating him Josslyn. She tells him he doesn't need to be told he's a terrible person, he just needs help. That night she takes him to a Narcotics Anonymous meeting and flushes his stash.
2.12 Going Through Changes Noah attends a narcotics anonymous meeting with Briana and he is doing a lot better and is lucky he didn't have to go to rehab. After the meeting, he is talking to Briana, thanking her for wanting to help him and not giving up on him like Josslyn. He then kisses her.
2.13 Until Your Mine Noah hears Robin arguing with Emma and decides to stay out of it and goes for a walk.
2.14 One Day Too Late Briana confronts Noah at Kelly's and asks him why he kissed her. Noah tells her that she has helped him a lot and doesn't remember a time when anyone not related to him seemed to care about him this much. His relationship with Josslyn was dysfunctional. He really cares about Briana and wants to be with her. He feels good around her and is happy. Briana agrees to go out with him and give a relationship a try.
2.15 Stand Up Noah and Briana are hanging out in between classes and Josslyn sees and becomes furious. Josslyn confronts Briana in front of them and after Briana finally stands up for herself with how Josslyn has treated her since they were young. Noah then tells her that Briana was there for him whens he abandoned him she was never there for him. Their relationship was all about her. Briana makes him happy. Something he hasn't felt in while.
2.19 Recovery Begins Briana shows up at Noah's place and informs him that she just learned her mother is pregnant again. She listened to how and why unlike Trinity but she still feels that her parents are replacing Leah.
2.20 Day of Reckoning Noah attends the graduation to support Briana who is giving a speech. He is later at the party and is seen in the crowd when Tyler's body is taken away.
Season 3
3.01 Last To Know Noah returns to school with everyone else.
3.07 I Lose Control Noah logs on to Facebook after school and is invited to like a page titled "I Hate Trinity Corinthos." He immidiately texts Briana about it so she can warn Trinity.
3.09 No More Sorrow Noah is with Briana when she confronts Meghan at school about the page.
Season 4
4.01 Awake and Alive Noah meets Briana at the hospital and asks how her moms doing.
4.03 The Approaching Curve Briana calls Noah and explains that someone is stalking her. Noah is shocked.
4.04 The Answer To Everything Noah talks on the phone with Briana about her being on house arrest and her cousins moving to town.
4.08 A Party Song (Walk Of Shame)
Noah receives a text from Briana to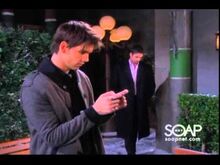 meet him at the park. He knows she is tired of house arrest so he agrees, not thinking the stalker thing is a big deal since she hasn't told him all the details. Not too long after arriving and meeting Briana, a man makes himself known and jumps out holding a knife. Noah tells Briana to run and he fights off the attacker getting stabbed in the arm and causing her attacker to flee. A few minutes later police arrive and Noah is taken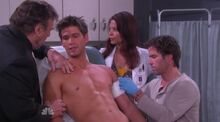 to the hospital where he is patched up. Briana meets him there as the police are questioning him. She is soon followed by her parents that are furious she snuck out against their orders. Before anything can be said, Emma rushes in with Jenny saying she is having an allergic reaction just as Patrick arrives to the scene. He takes Jenny and then tells Noah they will discuss this later.
4.10 Hush Before Noah leaves for school, Patrick and Robin sit him down and tell him that he is forbidden from seeing Briana until this stalker thing is over with. Noah is annoyed but Patrick uses him being stabbed as a perfect explanation on why. He can see her at school where she has Milo with her, but other than that,he is not allowed. Noah is angry but heads to school. He later tells Briana.
4.12 My Obsession Noah is seen at school talking to Briana with Milo nearby. He is later called and told that she has been abducted by her stalker.
4.13 Eyes On You Noah is with Trinity and asks if they have any leads on who the guy is and why this is happening.
4.15 Don't Walk The Other Way Noah is at the police station when Briana is brought in and they are reunited.
4.16 Why Don't You Love Me Noah is invited to the cabin to celebrate the end of the year and asks Briana if she thinks her parents will let her go.
4.18 Death and All His Friends Noah leaves for the cabin with Trevor but the two get a flat tire in the middle of a back road and neither know how to change it. Noah calls to let Briana know they are running late. Both Noah and Trevor are unable to get ahold of their dads who can walk them through changing a tire. A truck driver later stops and takes pity on the two and teaches them how to change a tire and the two get back on the road hours later. Noah calls Briana one more time to update them on when he and Trevor will be there. The two arrive after dark to see Briana sobbing holding a bleeding Trinity who is missing an arm. Noah knows that if she bleeds out she will die. He thinks quick and takes her into the kitchen and sees a pan on the stove and cauterizes Trinity's wound to stop the bleeding. He then tells Emma to find a signal and call for help and then lock herself in a closet. Noah takes Trinity's pulse as the episode ends.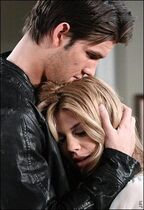 Season 5
5.01 Some Things Burn As the episode resumes, Noah and Trevor are barricading the cabin doors and trying to figure out what to do. Noah knows that if Emma got a signal, the police should get here within ten minutes. He goes back into the kitchen to check Trinity's pulse and tells Briana she stable. She needs to get to a hospital though, he cauterized the wound to stop bleeding but she could catch an infection. He listens as Briana relives some of her favorite memories with Trinity before breaking down saying she already lost Leah, she can't lose her too. There is a knock on the door and someone identifies themselves as the police. Noah peaks through a window and sees flashing lights and multiple people. He and Trevor unbarricade the door and let them in, he tells them Trinity needs medical attention ASAP and calls out to Emma, Jenny and Miranda in the closets and lets them know that Grace went to get help. The officer lets him know they picked up Grace and found the attacker. Noah helps seperate Briana from Trinity as paramedics takes her out. Trevor follows right behind. Emma, Jenny and Miranda come back into the main room and are escorted out by officers. Noah keeps Briana close as the exit. Walking to the police cars, he notices Hope and AJ's staged bodies causing him to pull Briana closer to keep from seeing that. They are transported to the hospital where Briana breaks down sobbing as her parents arrive. Noah stays with her until Robin and Patrick come up and need to speak to him. Noah explains what happened and Patrick lets him know his quick thinking saved Trinity's life.
5.02 Erase This Noah is at the hospital when Trinity is released. She thanks him for saving her life.
5.03 Your Love Was a Lie Noah attends Hope's funeral along with AJ's but avoids people who try to say he is a hero.
5.05 Not Enough Noah talks to Briana on the phone about how well Trinity is doing.
5.07 Never Go Back Josslyn talks to Noah when he sees her at Kelly's, she apologizes for how she acted, she sees that he is happy with Briana now and wants to just go back to being friends. Noah tells her she has to talk to Briana about it.
5.12 The Day That Saved Us Noah attends Gabbi's party with Briana hoping to get back into the sync of things and is shocked at Madi's confession.
5.15 What I've Done Noah goes with Briana and her family to Leah's grave as moral support when they introduce her to her new sister.
5.18 Broken Mirrors Noah attends the Beauty and the Beast production to support Trinity. He looks when Aiden is acting weird and realizes he has a gun and is pointing it at someone. Noah acts fast and tackles Aiden to the ground, causing the gun to go off and nearly miss Kenzie Ford's head.
Season 6
6.02 Chalk Outline Noah attends the Corinthos Family dinner along with Trevor. Since Marshall has moved to town, he is telling stories of when Chloe and Michael were teenagers and what Port Charles was like back then. Noah starts thinking about how they had gotten married right out of high school and have been happy ever since, and if high school sweethearts really last.
6.03 I Wanna Be Weightless Noah asks Briana if Trinity is going to be okay when he sees her struggling, Briana tells him she will be, she just has to adjust.
6.06 Crazy Beautiful Life After spending the day with Briana, Noah goes home and thinks about their relationship before Patrick comes home from work. Noah asks his dad if they can talk and Patrick and he sit down in the living room. He asks Patrick how he knew Robin was the one he wanted to spend his life with. Patrick, knowing where this conversation is going tells him that she was pregnant with Emma. He then tells him he is 18, if he and Briana are still together in five years, then think about it.
6.14 Got Me Going Crazy It's Briana's 18th birthday, Noah brings her flowers at school and goes out to dinner with her family.
6.17 Space Bound Noah tells his parents he is spending the weekend at Max's place to work on a school project. After school he and Briana head to Atlantic City for the weekend. The two spend some time in the casino before going to the bar. The next day he and Briana wake up with killer hangovers. He notices Briana is wearing a veil and he quickly gets up and sees a "just married" picture on the dresser along with a marriage certificate.
Season 7
7.01 New Perspective Briana meets Noah at the dresser and sees the photo and is shocked by it. She asks him what happened and Noah tells her he doesn't remember. Before Briana can react she rushes to the bathroom and throws up. When she emerges, Noah jokes about how bad her reaction was to figuring out she was married to him and Briana tells him that this is serious. She has no idea what to do in this situation and tells Noah they have to figure out something. Noah feels hurt by Briana's reaction but doesn't let it show. When she asks about annulment and Noah explains they might be able to use the incapacitated clause since they were under the influence of alcohol and although at the age of legally being allowed to marry, they are under age when it comes to drinking alcohol. Briana tells him they need to look into that before she starts to pack up her stuff.
7.02 Don't Let Me Get Me Noah drops Briana off at her place before heading home. He thinks about what were to happen if they stay married and researches annulment and learns there is a three years claus also, giving them three years to annul it. He later gets a call from Briana who tells him that Trevor killed himself in front of Trinity after attacking her. He agrees when Briana tells him they should wait to tell their parents what happened.
7.04 You Can Talk Me Into It
Noah meets with an attorney who draws up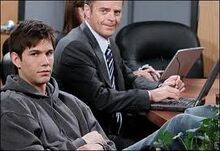 the papers for going forward with seeking an annulment instead of a divorce. Noah thanks him before meeting up with Briana and giving them to her. He still struggles with wanting to try the three-year period. He later meets with her at Kelly's to go over it. Briana tells him she believes the incapacitated claus might work for them. Noah then asks Briana how she would feel about staying married. Briana thinks he means wait longer for an annulment but Noah tells her that he wants to stay married. He has been thinking about it for a while, where their relationship is going and what they would be doing after high school. After some thought, Briana agrees to give the three year period a try.
7.05 Don't Let Me Down Noah and Briana talk at school and decide they should tell someone about what happened, even if it's not their parents so they decide to tell Emma. After school he and Briana meet Emma at the student union building at PCU to talk. Emma is happy to see them but confused on why they need to talk to her. Noah explains what happened and Emma is shocked to say the least. Noah then explains they are going to try it out and if it doesn't work, they can get an annulment. Noah then asks if she can not tell anyone until they figure out a way to tell their parents. Emma agrees and Briana asks about Jenny. Emma explains that since they haven't been able to balance out friendship and Emma's course load, Jenny hasn't spoken to her and she has tried to reach out after what happened to Trevor but Jenny is ignoring her. Briana thanks Emma and tells her to let her know if Jenny returns her calls. Noah and Briana then leave and talk about who to tell next. Briana recommends his parents since her parents are still dealing with what is happening to Trinity.
7.06 Fall Into Me After school, Briana and Noah go to the Drake house when both Robin and Patrick are there. Noah tells them that they have to talk to to them about something. Robin is nervous and fears that Briana is pregnant but is not happy to learn what really happened. Patrick asks Briana if he and Robin can speak to Noah alone and Briana agrees and steps outside. Patrick asks Noah what he was thinking and Noah has no response other than drunk actions are sober thoughts. Patrick is furious at Noah and Robin is too but tells Patrick he needs to make their own mistakes and they should let them have the three year period. Patrick is still disappointed in Noah but agrees to let him deal with things himself. Noah then meets up with Briana and tells her his parents aren't happy but support the decision to stay married. The pair then go to where Marshall is staying and tell him. Marshall is shocked but says as long as Briana isn't pregnant and they are serious, he isn't going to do anything.
7.08 Come Clean Briana and Noah agree that they need to tell her parents since everyone else has been told. After school Noah comes over when both Michael, Chloe and Trinity are home and tell them they need to talk. Again, both her parents fear that Briana is pregnant but have little relief after finding out they got drunk and married in Atlantic City. Chloe does her best to stay calm and stops Michael from getting up and hurting Noah. She asks Briana if she is sure about this and Briana tells her she is. Michael lets Noah know that if he hurts Briana, he will kill him. Noah accepts the threat and tells him he won't, before Noah leaves for the night, he gives Briana a proper ring.
7.09 Won't Back Down Noah decides to move out and rent an apartment with Briana with the money he has saved over the years. He starts packing up his stuff and tours a few. He later picks one out in between PC High and PCU and Briana agrees it would be a good place.
7.11 Loyalty At It's Best Noah continues to pack up his stuff and in a few days time, he and Briana can go sign a lease and pick up the guys. When Noah goes to the Corinthos House later that day, Chloe sits them down to talk and offers to let Noah stay with them while Trinity gets back on her feet. Noah and Briana discuss it and he agrees to move in until Trinity can deal with the Trevor incident better.
7.16 Only God Can Judge Me Noah sees Josslyn stomp away from Briana furious. He asks Briana what happened and she tells him not to worry about it.
7.18 The Good Left Undone Noah wishes Briana luck before her graduation speech and is seen graduating.
Season 8
8.10 The Game Is Over As Trinity spends more time with Beth, Noah and Briana decide she is well enough for them to move out. Noah is able to get the lease for the apartment they were looking at and Briana finishes packing up her stuff. The pair finally move out and into their own place.
8.12 You and Me, Can't You See Noah and Briana adjust to married life and living on their own, which includes Noah going to work and Briana getting things settled in at the house as they prepare to start college at PCU. Briana has trouble and burns dinner and worries she isn't "wife material" but Noah assures her everything is fine and they order in Chinese.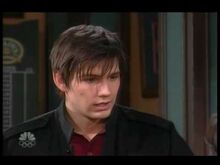 8.14 Because Of You Briana decides to go and talk to Jenny to see if things can be patched up. She asks Noah to drive her. Once outside the Martin house, she tells him if she hasn't come out or texted him in five minutes to come get her because that means they got into a screaming match. Noah agrees and waits in the car. When Briana doesn't come out after five minutes, he goes into the house and notices things are knocked around and calls out to Briana. He hears her yell his name from Jenny's room and goes in to find her and Jenny tied up and a very angry Ian there. Ian attacks Noah but he is able to fight him off and Ian flees the scene. Noah unties Briana and Jenny and calls the police.
8.15 Call Me When You're Sober Before Noah leaves for work, he asks Briana if she will be okay alone and she tells him that Trinity is going to drop by. He kisses her goodbye and leaves.
8.16 That's What You Get
Noah is at work when the police arrive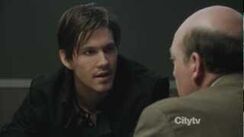 and tell him he is being taken in and questioned over the murder of Ian Slater. Noah tells the police officer interviewing him that he has no idea what happened and hasn't seen Ian since he fled the scene. He tells them that he was at work the day before and that he should be on security camera footage along with his coworkers can confirm that. Noah is later released because his alibi checks out. He finds out that Briana is being questioned also and waits with Trinity. Michael and Chloe are both released as well and wait with them for Briana. Briana is finally released and she and Noah head home. Noah asks her if her dad had anything to do with what happened. Briana tells him he doesn't want to know the answer, and that plausible deniability is a good thing.
8.17 Let It Die After Ronnie Domestico is unable to pin Ian's death on anyone, he classifies it as a cold case. Noah once again asks Briana if her dad had anything to do with it. Briana once again tells him he doesn't want to know the answer. Noah insists he wants to know. Briana then tells him that when she was kidnapped by her stalker, she didn't get away at a transfer point. Jason and Spinelli found her in a warehouse. Jason killed him and burned it down before dropping her off on the side of the road and telling her what to say. Noah is shocked by this and Briana again tells him he doesn't want to know the details of what her dad did to Ian.
Season 9
9.03 I've Become So Numb Noah asks Briana if she is okay after her cousin Grace's suicide makes national headlines. Briana assures him she is fine, just shocked. Briana then explains to Noah that Grace's mother has kicked her out more than once simply because she is gay.
9.04 Goodbye (I'm Sorry) Noah goes with Briana to Grace's funeral and does his best to be there for her. They witness Chloe and Lainey arguing where Chloe tells Lainey it's her fault Grace killed herself. Noah and Briana try to calm her down. Chloe storms off and Briana goes after her, leaving Noah there.
9.08 Make It Stop (Let This End) Noah attends the Rise Against charity concert with Briana.
9.12 You're The Reason Noah notices Briana has been acting depressed but assumes it's due to Grace's death.
Season 10
10.07 Let Love Bleed Red Winter quarter starts at PCU and Noah meets Lila Alcazar in his comp 102 Class. Lila is extremely sweet to Noah who appears to be oblivious to her flirting.
10.10 Open Your Eyes Noah and Lila discuss the topic of their research papers, Contemporary Slavery and Lila says hers is going to be on human trafficking and mentions that Michael Corinthos might know a thing or two about that, considering he is in organized crime. Noah doesn't say anything about his wife being Briana Corinthos, Michael's daughter and honestly wonders if that's what Michael could import along with Jason and Johnny. He goes home that night and Briana asks him who he was with, explaining that she and Spike were working on an engineering project in the union building and saw him talking to a strawberry blonde. Noah tells her she is Lila Alcazar and they are in the same English class.
10.12 Ignorance Is Your New Best Friend Noah continues to be oblivious to Lila's constant flirting, just thinking she is an extremely friendly individual. They continue to work on the topics of their papers, Noah finally deciding to focus his on the production of Palm Oil in Indonesia. He goes home that night and Briana tells him there is a new gossip site about the people around Port Charles and it posted a bullshit story about her and Spike and wants him to have heard it from her before anyone else. Noah looks at the story on her laptop before laughing at how ridiculous it is.
10.15 Imperfections Lila meets Noah after class and tells him that his wife doesn't know boundaries. Noah is confused and Lila tells him that Briana came up to her earlier and told her that Noah was her husband and that she needed to back off and if she didn't, she would regret it. It's not healthy to be that jealous. Noah apologzes and tells Lila he will talk to her. He goes home that night and asks Briana if she threatened Lila. Briana is confused and tells him that she didn't threaten Lila, just introduced herself to her as his wife. Noah tells Briana what Lila said and Briana denies it. Noah tells her that she is unbelievable. Briana asks Noah if he is really listening to Lila over her. When Noah doesn't answer, Briana informs him he is sleeping on the couch that night.
10.18 Keep You With Me Noah gets a phone call from Emma after class asking him what's wrong with him, Noah is confused and Emma tells him that Briana told her everything and that he shouldn't be believing Lila over her. Noah goes home and waits for Briana and when she gets home, he asks her where she was. Briana explains that she went to talk to Emma. Noah apologizes for what happened and believing Lila over her. He married her and should trust her over Lila. He also says he will talk to Lila about stopping the flirting.
10.20 No News Is Good News
Noah is working on his essay in the Student Union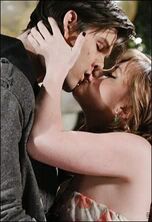 building when Lila comes over and asks him how things are going. Noah tells her things are great. Lila then asks about how things went with Briana and Noah tells her it was just a misunderstanding and tells her not to worry about it, but her constant flirting needs to stop. Lila asks if that's coming from him or Briana. Noah starts to pack up his stuff and tells her it doesn't matter, he is married and loves Briana. Lila then asks about how he met Briana and what he is doing being married at nineteen. Noah just tells her they were friends for a while before dating. He doesn't tell the truth about the drunken marriage in Atlantic City. He leaves the union building and Lila follows asking if he is sure Briana is the girl he wants to spend the rest of his life with. Noah tells her he is sure. Lila grabs his arm and the pair stop walking. She asks him if he is sure and Noah tells her he is and she is overstepping her boundaries. Lila then kisses him before once again, asking if he is sure.
Season 11
11.01 To Live and To Lose Noah walks towards his last class to take his last final for the year. He is exhausted having studied most of the night when he was able to focus. After class, he is exiting the biological sciences building when Lila walks up to him. Noah tells Lila she needs to back off. Lila asks him if he told his wife what happened. Noah tells her he hasn't and neither is she. Lila tells him that if he didn't have feelings for her, he would have told Briana. Noah tells Lila to leave him alone, he is exhausted and heading home to sleep. Lila calls out that she will call him later as Noah walks away. Noah arrives home and Briana asks him how his last day of class went. Noah puts his backpack down by the hall closet and tells her it went fine but he is exhausted and going to bed after dinner. He goes back into his and Briana's room and sees Lila sent him a text message with a winking emoji. He quickly changes her contact name to one of his coworkers.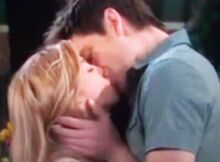 11.06 Say Goodbye Noah battles with his guilt of cheating on Briana with Lila. He is getting ready for the day when his phone rings from in the living room while he is in the bedroom. He rushes to answer it telling Briana it could be work. After answering, Lila tells him to meet her at a specific part of the Port Charles park. Noah agrees. He hangs up and tells Briana he has to go into work because one of his coworkers called in sick. Briana kisses his cheek and tells him to have fun before he leaves. He arrives at the park in the secluded and Lila smiles at him and kisses him. She then asks what he told Briana and Noah tells her that Briana thinks he's at work. Lila laughs and asks him if he is going to still deny having feelings for her. Noah doesn't reply.
11.08 Why Can't You Just Be Honest Noah is at work about ready to take his lunch break when Lila arrives. He asks her what she's doing there and Lila tells him not to worry, she told his supervisor that she was his wife. Noah tells her she shouldn't have done that. Lila just laughs and tells him it's fine and that they should go take lunch. The pair exit the building and are talking. Lila asks him once again if he is going to still deny having feelings for her, Noah tells her that he isn't going to deny it, but he knows what he's doing is dangerous. Lila laughs and kisses him again. The pair are interrupted by Briana, Noah looks at her like a deer in headlights. Briana then calmly tells him that his stuff will be packed by the time he gets home. Noah tries to say something and explain, although he isn't sure what he can explain. but Briana leaves. Noah tries to follow her but his supervisor comes out and tells him lunch is over and he needs to get back to work.
11.09 Wish You Never Met Me Noah is at home trying to call Briana and freaking out that she is not answering and neither is Trinity. She then enters their apartment and dodges him, going straight to her room and grabbing her suitcase. She explains that she spent the last night with Emma at his parent's house but is going back to her parents place now. Noah begs her not to go but Briana tells him that she is not staying with a cheater. As she gets the last of her essentials, she tells him that she will be contacting Diane Miller to get divorce papers started. Noah begs her not to do this but Briana tells him it was over the moment he decided to kiss someone that wasn't her. Briana then leaves and a furious Noah throws a glass at the wall. His phone rings and he answers it without looking at the caller ID annoyed. He then hears a furious Emma cursing him out. Noah tells Emma he doesn't have time for this but Emma continues to angrily tell him what a stupid idiot he was being for what he did to Briana. Noah tells her he knows that and is trying to fix it. Emma tells him he can't fix it, Briana is planning on filing for divorce and moving back in with her parents. Noah tells her he knows, Briana just left after saying the same thing, he then asks Emma if she can talk to her but Emma refuses saying she is on Briana's side on this and is so angry at him, she doesn't even know if she can look at him.
11.11 Lonely As You Noah hears a knock on the door, thinking it to be Briana, he answers it without a shirt on but instead it's Lila. He tells her she needs to leave but instead Lila walks inside. Noah tells her she isn't wanted here and shouldn't be here. Lila asks where Briana is and he tells her she left and it's her fault. Noah tells him that it simply isn't her fault, he didn't try to dissuade her. Noah tells her he did, he told her he was married multiple times and even asked her to stop flirting with her. Lila tells him it simply isn't just her fault, he was an active participant. Noah then grabs Lila by the arm and removes her from his apartment, telling her to never come by here again.
11.12 Revenge & Its Thrills Noah is at home when the doorbell rings, once again, hoping it is Briana or Emma with good news, instead, it is Diane Miller. She gives him divorce papers and tells them to sign them and get them back to either her, Briana or Chloe. Diane then leaves and Noah looks through them before tearing them up.
11.14 Tragedy + Time Noah awakes on his living room sofa by Emma hitting him repeatedly with a pillow. He asks her what she's doing and she tells him she stopped by to see how he was doing, but by judging his surroundings, he is doing pretty bad. Noah asks how Briana is and Emma tells him not much better but she is feeding herself and leaving the house. Briana is also waiting for him to sign the divorce papers. Noah points to the kitchen table and Emma finds them ripped in half. Emma tells him he needs to sign but Noah refuses saying he and Briana can work this out. She didn't go for annulment, which means they have to be separated a year before they can go forward. Emma than informs him that Briana cited adultery as the reason for a divorce, that means that she doesn't have to wait for a year of separation. She then tells him to let Briana go before leaving. Noah later goes to the Corinthos house looking for Briana only for Rory to answer the door. Noah asks for Briana but Rory tells him she isn't home. Noah begs but Rory continues to say Briana is out with Emma somewhere. Briana then emerges telling her it's okay and to go back inside. Briana steps onto the porch and asks Noah what he is doing there. Noah begs her to give him and their marriage a second chance. Briana tells him no, cheating is a dealbreaker. With the city they live in and the life her dad and grandfather lived, she could take secrets and keeping something from her, but cheating isn't something they can work through. Noah continues to beg, claiming never speaking or being near Lila again and them going to couples therapy. Briana tells him nothing he says or do will change her mind and he better gets off of her property before her dad gets home.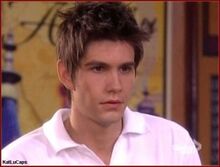 11.16 Space Enough To Grow Noah is at work when a lawyer comes by and gives him a new copy of the divorce papers, saying he has been served and informing him that he can legally now go sign an affidavit saying the papers were delivered and the divorce proceedings will go on whether or not he signs. Noah is too shocked to say anything as the lawyer leaves. After he gets off work, instead of going straight home, he detours to a shady part of town and purchases some heroin off his old drug dealer.
11.17 Everybody Breaks A Glass Noah is in his apartment staring at the heroin he purchased next to a spoon, a lighter and syringe when Emma walks in without knocking. Emma walks over to him and is shocked to see not only the drugs, but a syringe, meaning he has taken them before. Noah tells her not to worry, he hasn't done any yet, he just has been staring at them for a while. Emma doesn't believe him and grabs his head, opening his right eye and staring at his pupil. After seeing they aren't pinned she takes the drugs and flushes them down the toilet before berating him, saying they are lacing heroin with Fentynal now, he could have easily OD'd. Noah tells her he doesn't care, his life is over anyway. Emma asks why he even thought about drugs. Noah then confesses that after the shooting and Leah, Malaya, Ryder and Drake dying and Drake trying to kill them, he started using to cope. It's why Josslyn broke up with him and Briana helped him get clean before it became too much of a habit. Now Briana is gone and wants nothing to do with him because he is stupid. Emma sits down next to him and hugs her brother saying that this may be a hard time right now, but he can't throw away his future. What is meant to be, is meant to be and for the first time in a long time, Noah cries.
Season 12
12.09 Patchwork Love Noah is going for a walk in the park when he overhears Spike talking to Briana about her being pregnant. Noah asks if it's true and Spike tells him it is, but Noah isn't the father before the two walk away, leaving Noah shocked.
12.10 A Hundred Sleepless Nights Noah awakes to Emma shaking him awake on his sofa. She asks what happened and Noah tells her that he lost all chances of getting Briana back because she got pregnant by Spike Lavery. Emma then quickly leaves.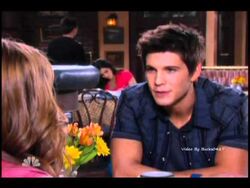 12.14 Restless Heart Syndrome Noah is getting coffee at Kelly's when he runs into Lila who asks if they can talk, no romance or affairs, just talking. Noah agrees and the pair sit down and Lila asks him how he and Briana are doing. Noah tells her that Briana has filed for divorce and he got the papers and things are currently in the court system. He also tells her that Spike Lavery got her pregnant not too long after they broke up so things between them are over. Lila apologizes for that and what she did. Noah is surprised and Lila tells him that she likes him and is used to getting what she wants, including guys. She understands what she did was wrong and hopes they can be friends and he and Briana can work things out and if Briana is unwilling, maybe she wasn't fully dedicated to their marriage. She then tells him if he needs to talk, to a friend, she is listening.
12.20 Politics of Love Now that Briana is six months pregnant with who he believes is Spike Lavery as the father, Noah decides to listen to Lila and get his life in order, which results in him cleaning up the apartment and going through his stuff and planning on returning to school for Winter quarter after taking the fall off. Emma knocks on his door and he lets her in and she is surprised at him putting his life back together. He tells Emma that he understands his relationship with Briana is over. Emma asks what changed this and Noah tells her that ironically, it was a conversation he had with Lila Alcazar. Briana hopping into bed with Spike Lavery showed that she wasn't as invested in the marriage and saving it. Emma tells Noah she needs to talk to him and the pair sit down on the sofa. Emma then tells Noah that she doesn't know how invested Briana is in in anything, but he has the right to know this before he gives up on everything. She then tells him that Spike was covering for Briana because she was scared of Noah finding out she is pregnant because Noah is the father. 
Seaso 13
13.01 Bed of Thorns
13.03 I Am The Fire
13.04 Fake It
13.06 If It Means A Lot To You
13.08 In a Place of Solace
13.09 There'll Come a Day
13.10 Life Screams
13.12 Thank You For the Venom
13.15 We Were Doomed From The Start
13.17 Lightning In a Bottle
Trivia
Noah is the first and only character to have a drug problem so far
Noah is the first character to get married (married Briana Corinthos in Season 7)
Quotes
Relationships
Start Up: 2.14 One Day Too Late
Break Up: 11.08 Why Can't You Just Be Honest

Reason: Noah Cheated with Lila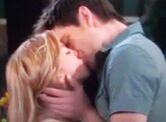 Start Up: 10.20 No News is Good News
Break Up: 11.11 Lonely As You